| | |
| --- | --- |
| | Italian language courses in Florence, Italy |
ITALIAN LANGUAGE COURSES: WHY GO TO FLORENCE TO LEARN ITALIAN?
For those of you who have never been to Florence, it is almost impossible to describe its beauty and classical elegance, so we will not really try. What we can do, however, is tell you that Florence is one of the best places to take an Italian language course, because while you enjoy the sights and sounds of Italy's most beautiful study, you can also do something really useful like go through an Italian language course.
There are many institutes that offer Italian courses in Florence, but the premier among them would have to be Europass, because quite apart from familiarising you with the nuances of the beautiful Italian language, the trained faculty at Europass also acquaint you with the depth and richness of Italian culture, and nowhere is that culture more visible than in Florence.
As a rule, the best way to learn Italian is to enrol in one of the Italian language schools in Italy. Agreed, there are hundreds of thousands of institutes around the world that may offer Italian courses, but you can never really learn and appreciate a foreign language unless you also learn about its context and gain some knowledge of the culture that has given birth to it.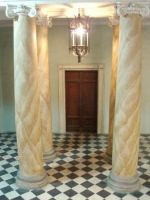 Signing up for an Italian course in Florence means that you capture the soul of the Italian language, and if you enrol at Europass, you have come to one of the best language schools in Italy. The institute is located in an impressive neo-classical building, where wide stairs lead to spacious and bright classrooms with up-to-date audio and video equipment, a big lounge and sunny balconies that give you the ideal surrounding for studies, conversation or reading. From the terrace you have a breathtaking view over the town centre and the nearby Santa Maria del Fiore cathedral.
Italian language courses at Europass are designed to suit the needs of every individual student, and teaching methods are based on modern and innovative principles that enable students to communicate easily in everyday situations. The choice of subjects, besides Italian courses, includes visual arts, photography, jewellery, cooking, and culture studies. Owing to the large number of international students that take the Italian language courses in Florence, the atmosphere in a Europass classroom is completely cosmopolitan.
So what are you waiting for? Take a tour of www.europass.it to find out why it is the premier Italian language school in Florence, and then sign up! As they say, "Lo studio dell'italiano aguzza la mente". We won't translate that one. Why not come to Europass and find out what it means exactly?